So, it's 2014 now, you'd think most boldface names would have gotten the memo: Don't email, text message, or otherwise communicate any pictures or message you wouldn't want getting out, blared on the front page of every tabloid for all the world to see. And yet... the
Huffington Post
rounds up 44 celebrities who've had technology-related scandals in recent years: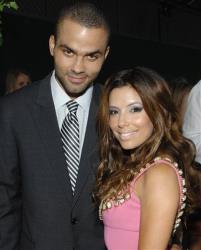 A 19-year-old claimed Tony Parker texted her racy pictures, and his marriage to Eva Longoria ended up disintegrating as a result.
David Duchovny left wife Tea Leoni after finding explicit texts from Billy Bob Thornton on his wife's phone.
Text messages proved to be the downfall of Jesse James' marriage to Sandra Bullock, when Michelle "Bombshell" McGee released racy messages James sent her.
Same goes for Tiger Woods, who saw his marriage to Elin Nordegren go down in flames after racy texts to one of his many lovers emerged.
One of Woods' paramours, also exchanged dirty texts with David Boreanaz, and they ended up leaking and hurting his relationship with Jaime Bergman.
Why in the world did Reese Witherspoon and Ryan Phillippe ever break up? Well, it had to do with phone records between Ryan and Abbie Cornish.
Kanye West had the ill-advised idea to take pictures of his private parts and send them to women, who then sold them to media outlets.
When nude photos of a woman resembling Blake Lively (even the same tattoo) leaked, however, Lively just claimed they were fake.
Scarlett Johansson said it was "sick" when someone hacked her email to grab nude pictures she sent to Ryan Reynolds, which were then leaked to the world at large.
Even the Jonas Brothers aren't immune. Joe Jonas is rumored to have made a sex tape with his model girlfriend, but he claims it's not true.
When Paris Hilton's phone got hacked, dozens of nude pics were leaked, including some featuring Paris getting intimate with a female pal.